Nova e serija idealna je za sve one koji će svakodnevno koristiti romobil.
Nova e serija idealna je za sve one koji će svakodnevno koristiti romobil. Snažna baterija, jaki motor s tri brzine vožnje i veće silikonsko gazište, pruža idealnu vožnju uz veću brzinu i domet do čak 70km. Veliki 10″ zračni kotači, prednji i zadnji amortizer te prednja i zadnja disk kočnica, čine vožnju ugodnom bez potrebe čestog zaustavljanja na neravninama i preprekama uobičajenim na gradskim cestama. Električna stražnja kočnica prilikom kočenja vraća energiju u bateriju čime se ona puni, a čvrst i sklopiv mehanizam pruža mobilnost i jednostavnu upotrebu. Kada vožnja nije potrebna, preklopi romobil i ponesi ga sa sobom!
Pregledne informacije o trenutnoj brzini, stanju baterije, modu vožnje
Automatski tempomat koji će sam prepoznati brzinu vožnje i zadržati ju dok god to želite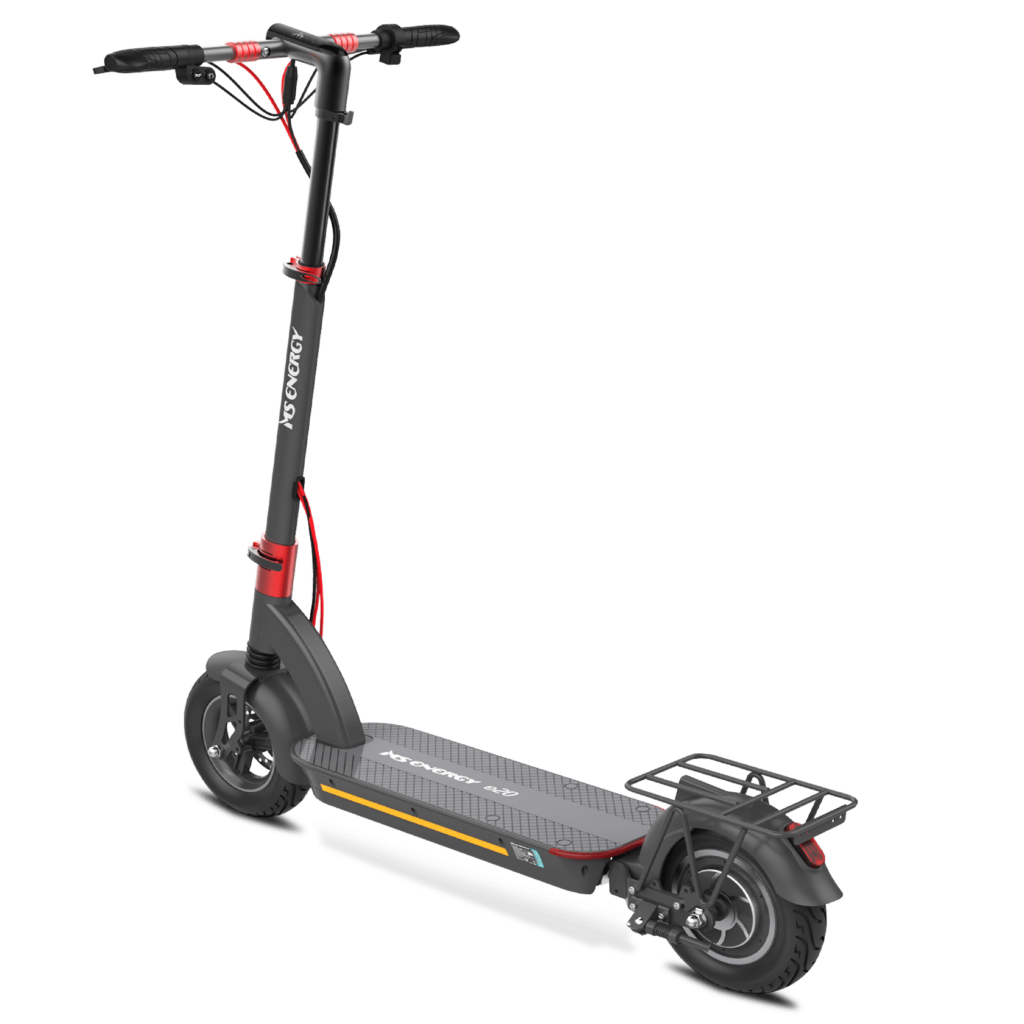 | | |
| --- | --- |
| Veličina kotača | 10″ |
| Brzina | ograničenje do 25 km/h |
| Vrsta okvira | Aluminijski |
| Boja | siva , bijela |
| Motor | 500W |
| Max Power (peak) | 1000W |
| Baterija | 48V/17.5Ah |
| Vrijeme punjenja | 8-9h |
| Domet | 60-70 km* (domet koji se navodi je testiran na brzini od 20 km/h s vozačem od 75 kg u idealnim vremenskim i terenskim uvjetima, u slučaju odstupanja od testnih uvjeta i domet može odstupati od deklariranog) |
| Vrsta kočnice | prednja i stražnja disk kočnica & EABS |
| Maksimalno opterećenje | 120 kg |
| Suspenzija | prednja i stražnja |
| Dodatne opcije | Mogućnost sklapanja |
| Težina | 21 kg |
| Display | Da, LCD |
| Svjetlo | Da, prednje i stražnje LED + reflektirajuća traka |
| Dimenzije (D,V,Š) | 1180 x 580 x 1280 mm |
| Max. uspon | 20° |
Romobili MS Energy e10 i e20 koriste aplikaciju MS Energy e koju možete preuzeti na iOS Store-u ili Google Play Store-u te ju putem Bluetootha povezati sa svojim mobilnim uređajem. Pomoću MS Energy e aplikacije lako ćete pratiti trenutnu brzinu, imati uvid u ukupne prijeđene kilometre, a nakon vožnje aplikacija Vam omogućuje da svoj romobil i zaključate. Uz to MS Energy e aplikacija nudi i ostale korisne funkcije kao što su uključivanje ili isključivanje svijetla, promjenu moda brzine,  a pruža i jednostavan uvid u status baterije kao i temperaturu strujnog kontrolera.
Tko kaže da sigurnost i trend ne idu zajedno taj nije vidio MS Energy dodatnu opremu koja će tvoju vožnju gradom pretvoriti u potpuno novo iskustvo privlačenja pogleda